TCH: Started to hand over Gold Tower project's apartments
(Updated: 18/12/2019)
As part of Hoang Huy real estate, Gold Tower is a prominent project with the most prime location in the west of Hanoi. Out of stock from the beginning of sales and effective construction performance, Hoang Huy Gold Tower is in the process of bustling construction of the final completed items.
Hoang Huy Gold Tower is being completed (early December 2019)
Not only the owners of the trade stall, the office lessees also wants to receive the handover soon to deploy the business premises. In November and early December, TCH also began handing over the first 10 apartments to customers. The completed apartments will be constructed by TCH and handed over to customers in the coming quarters.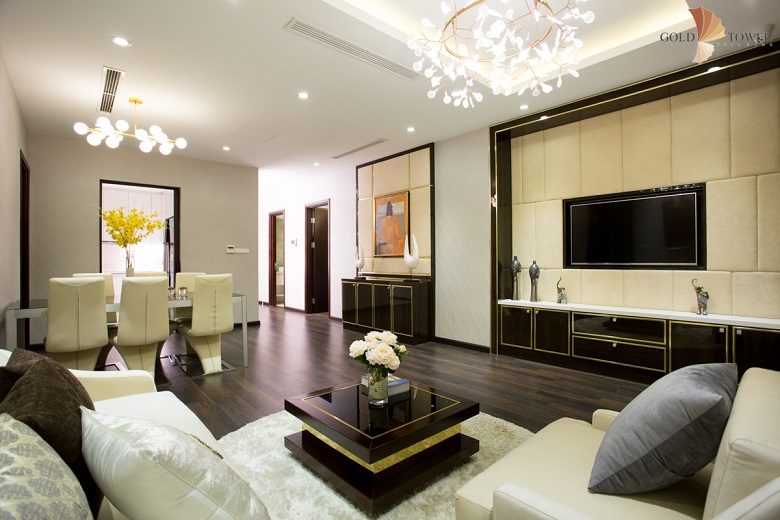 Interior and luxury furniture of Hoang Huy - Gold Tower apartment
Hoang Huy Gold Tower is a 33-storey tower, located at 275 Nguyen Trai, Thanh Xuan, Hanoi. Owning a prime location on Nguyen Trai street, the arterial road of the capital, near the key intersection with Beltway 3, a few steps from Cat Linh - Ha Dong elevated railway, along with excess Gold Tower enjoy synchronous infrastructure, convenient to move to shopping centers, schools, hospitals, airports, bus stations ... Gold Tower is 33 storeys, 33 floors high tower, 3 basements with a total floor area of erected 58,000m2. In which, 7 floors of shopping centers, 4 floors of offices and 21 floors of luxury apartments and 5-star hotel apartments.
Hoang Huy Gold Tower has a prime location and convenient transportation
Nearly 200 high-class apartments, diverse designs ranging from 90 to 130m2, optimize the 2-3 bedroom function were sold out right from the first day of sales. Density of 10 units / floor with 6 high-speed Schindler elevators (Switzerland), equivalent to 7 people / elevator helps residents move easily. Hundreds of integrated utilities at Gold Tower such as four-season indoor pool, Gym, Yoga, Spa, CGV cinema...
TCH has so far invested in Hoang Huy Gold Tower project of over VND 1,000 billion. The project is expected to bring profits of hundreds of billions for TCH from the end of fiscal 2019 and 2020.
(TCH)
Tin tức khác