Real Estate Enterprises are facing with many challenges
(Updated: 20/5/2019)
Mobilizing capital from issuing bonds, stocks or associating with foreign enterprises is a plan that many real estate enterprises choose to adapt when credit is tightening.
Credit tightening policy on real estate is being applied. Since the beginning of this year, banks have reduced the ratio of short-term capital for medium-term and long-term loans from 45% to 40%. Risk indicator with real estate lending activity also increased from 150% to 200%.
According to the draft circular of The State Bank of Vietnam on the limits and prudential ratios of operation of banks, foreign bank branches, the ratio of short-term capital for medium-term and long-term loans is expected to decrease from 40% in 2019 to 35% in early 2020. After that, this rate reached 30%, the risk indicator from 150% to 200%, even 250-300%.
Mr. Nguyen Manh Ha, Vice Chairman of Vietnam Real Estate Association, said that credit for real estate has been more tightly controlled, credit scale in this field has gradually decreased since 2016 until now. In 2018, credit growth rate was 12%, but real estate credit was just over 5%, and especially the last quarter of the year saw negative growth. The ratio of outstanding loans in real estate is about VND 500,000 billion.
Economist Vo Tri Thanh said that in the short term, real estate enterprises may face difficulties when credit loans are tightened but in the long term, this will help the market to develop healthy and stable.
Businesses seek to adapt
According to Nguyen Van Duc, deputy director of Dat Lanh Real Estate Company, the credit tightening on real estate will firstly affect small enterprises, the units have few projects to mortgage or sell to get the revolving capital.
In the past, if an enterprise only needed VND 30 billion of equity capital, it would be possible to implement the investment project, but now with the tightening of loans from banks, the enterprise would have to have VND 70 billion. Thus, each unit will have a strategy to mobilize capital or cooperate and develop projects with foreign countries, Mr. Duc gave example.
Experts assess that in the short term, businesses may face difficulties when credit on real estate is tightened. Photo illustration: Thuy Tien.
Many enterprises announced plans to mobilize capital by issuing bonds and shares. Some units admitted that this is the most effective capital mobilization plan in the context of tightened capital.
Phat Dat Real Estate Development JSC (HoSE: PDR) continuously announced bond issuance. For the first time, the company offered to sell 20 million shares to mobilize VND 500 billion for land, apartment and service apartment projects. The company issued VND 200 billion of non-convertible bonds with secured and non-warranted assets, maturing in 1 year with interest at 14.45%.
In April, the company announced a decision to approve a loan of 22.5 million USD in 2 years from Vietnam New Urban Center LP (not guaranteed by the Government), to finance the investment project of the office and commercial area of Division 4 of Nhon Hoi eco-tourism urban area, Binh Dinh province. Most recently, Phat Dat announced the issuance of 100 non-convertible bonds in the second phase of the year, carried out in the second or third quarter to collect VND100 billion (VND1 billion / bond) to finance Nhon Hoi – Binh Dinh project.
Hoang Huy Investment Financial Services Joint Stock Company (HoSE: TCH) said that the company's existing capital, negligible debts and revenues from the sale of projects helped the company not "struggle" with the regulation of tightening capital on real estate.
Previously, in the last months of 2018 before the time of applying the ratio of short-term capital for medium-term and long-term loans from 45% to 40%, many real estate enterprises also announced to issue bonds. Novaland issued VND 1,500 billion of bonds, TTCLand issued separately VND 470 billion of non-convertible bonds without warrant. Sunshine Group issued 100 million "4 no" bonds (no: convert, attach warrants, collateral, payment guarantee), par value of VND 100,000 / bond ...
Talking with NDH, Mr. Nguyen Huy Duong, Chief Financial Officer of Hoang Huy Group (HOSE: TCH), also said that in the coming time, TCH is expected to mobilize long-term capital sources from the issuance of private shares, looking for partners to implement business plans in the tightened credit capital context.
Leaders of the company shared that at the beginning of the year, the company issued US $ 50 million of convertible bonds and disbursed US $ 25 million by March to deploy HH3, HH4 and Huy Hoang Riverside projects.
Mr. Huynh Hai Son, General Director of Trung Nam Joint Stock Company, said that when the credit for real estate is tightening, enterprise will receive capital support from the parent company of Trung Nam Group to implement the project.
Opportunity for all?
Economic expert Nguyen Tri Hieu said that when credit is tightened, opportunities only really open to enterprises with good plans and transparency in business activities.
Mr. Dinh The Hien, a specialist in banking and real estate, said that enterprises need to have a proactive treatment plan, when good products are overdue, they must work with banks on debt, find solutions. Companies also need to learn how to tighten capital in the bank's support; must make a plan of expenditures, to work closely, not to extend the project.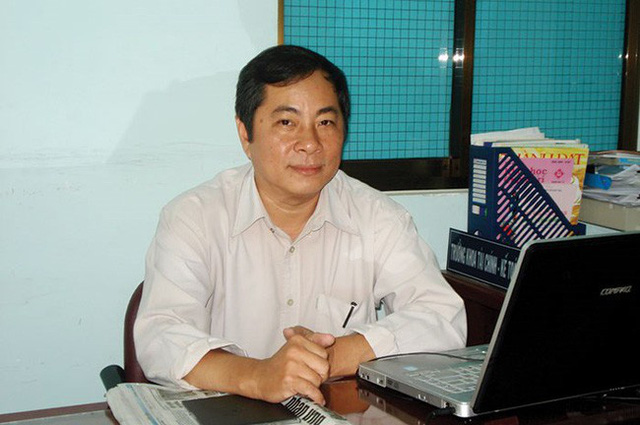 Dr. Dinh The Hien judged that the plans to issue shares, bonds or bonds were not easy. Photo: Internet.
"The lesson is clear that when the real estate market turns around, there are both projects which will live or die, the problem is the investor's determination to handle projects. If it can't be dealt with, all would get damage, "Mr. Hien said.
For specific options such as linking with foreign enterprises, issuing bonds and stocks, according to Mr. Hien, there are disadvantages.
Regarding cooperation with foreign countries, enterprises are not easy to implement. The requirement when linking is to have projects, available land fund, good financial potential. In fact, at present, many companies still do not have legal projects, are in the process of accumulating land fund ... Not to mention, when cooperating, many enterprises still lose the right to decide, almost sell the project for foreign countries.
According to Mr. Hien, only listed enterprises can mobilize capital by issuing shares. Meanwhile, there are many unlisted real estate companies in the market.
For bond issuance, Mr. Hien said that it was not favorable because Vietnam did not have a lively bond market like stocks. Enterprises that are not aware of pushing bonds are capital markets, using capital to calculate or accept market interest rates, so this way of mobilization is difficult to implement.
(NDH)
Tin tức khác