PM cuts ribbon on VN's largest arch bridge into use
(Updated: 15/10/2019)
Prime Minister Nguyen Xuan Phuc cut the ribbon to inaugurate Hoang Van Thu Bridge across Cam River, the largest arch bridge in Viet Nam, in the northern port city of Hai Phong on October 15.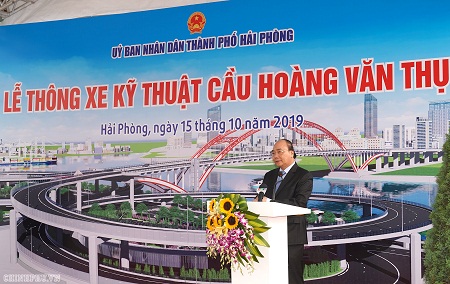 Prime Minister Nguyen Xuan Phuc speaks at the event
The 1,570m bridge was completed after 33 months of construction with a total investment of nearly VND2.2 trillion (US$94.6 million).
Its major span is 290 meters long, which is the largest of its kind in Viet Nam thus far. The bridge helps connect the inner city area with the Bac Song Cam (Northern Cam River) new urban area.
Addressing the event, PM Phuc stated that the inauguration of Hoang Van Thu Bridge is very important in opening a new development space to the north of Cam River. This is the premise to implement the Politburo's resolution on completing the relocation of Hai Phong's administration center to the north of Cam River by 2025.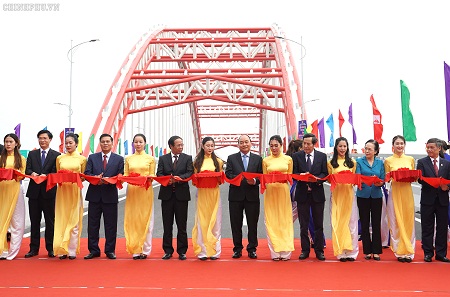 PM Nguyen Xuan Phuc and delegates cut the ribbon on Hoang Van Thu Bridge in Hai Phong City
The expansion of space is essential for Hai Phong's strongly burgeoning urban area, the leader said, noting that the development of technical infrastructure, especially transport infrastructure, is an important policy that has been strictly implemented by the port city over recent times.
Hoang Van Thu Bridge is completely designed and constructed by Viet Nam, which shows the rapid maturity of domestic technicians and workers, he stated.
The PM thanked the local people for having ceded their living places to the significant project of Hai Phong, affirming that the atmosphere of development is a strong hallmark of the rising port city./.
(VGP)
Tin tức khác